We wish to thank ALL of the Streeters, family and friends that joined our group of 35 that made it out to our annual Chicago Wolves Game Streeters club outing! We had 34 of the 35 attendees all make it, and this time with some warmer and less torrential weather this time out. That being a snowstorm like we had last year.
We certainly need to thank Tim & Lela Wong for making the arrangements, setting everything up, mailing out the tickets and doing some running around to pick up the tickets and the Wolves jersey we gave away. Tim had done this for the club for over 10 years now and we always have a nice sized group out for a great time! So THANK you BOTH!
This year our seats were different. A bit higher up, but also centered right at the middle of the rink. We had a totally AWESOME view of the entire ice rink, with a nice view of all the action, close enough to see all the players well enough.
We did get another FREE Jersey this year, and as always we gave it away with a free raffle pull from all the tickets of our group. The lucky winner was Stephanie Pierson daughter of Bill and Sue, family friends member of Streeters members, Rick & Danette Lane. Congrats Stephanie! We hope to see you wearing it!
The evening started out for some of us at Portillo's in Roselle where we all enjoyed some great food before the game. From there the group headed the Allstate Arena where we met up with other members of the Streeters in our section, giving our hellos, handshakes, hugs, and getting seated for the game. The scoreboard once again announced the "Streeters" were in the house!
Sadly the Wolves lost... But if you are a Blackhawks fan, which many of us are, it was difficult to choose sides as they were playing the Rockford Icehogs, the "Farm team" of the Blackhawks; for which we got to see Brian Bickel play. It was a close game the entire duration, until the Wolves lost 4-3.
---
Today, 8/19/16 in the "Wheels" section of the Northwest Herald, Streeters member, Freddy "B" had his most recent story published about the recent Gary Lang Car Car "Made in the USA" Car Show from last month.
The club got a NICE write-up in the article and a few Streeters, along with our "STREETERVILLE LOUNGE" were pictured with the story in a photo. Also in one of the photos is our very own Wayne Bastiaans and his '57 Chevy got a nice pic in the article too!
That VERY SAME DAY, the Richmond-Spring Grove Chamber of Commerce Charity Car Show was going at the SAME TIME!
Several of our Streeters were photographed and those photos along with a video can be seen at
this link
on the Richmond - Spring Grove Chamber website.
In addition to ALL of that, the Streeters Three-Peated winning the "Club Participation" Award at June's "Gears & Ears" Car Show!
Our Club also took home the Top award for Display at the Founders Day Parade last month as well.
I also have to say, that we have had a Metric Tonnage of WINNERS with our club members and their rides from ALL the shows this year so far! We really have. And CONGRATS to ALL of you who've been taking home the gold this year!
We have a LOT of them, like I said, and All our winners, as well as participants deserve a round of applause!
Here is a recap of last weekend events in Algonquin as highlighted by club member and parade chairman, Wayne Bastiaan. A big thank you goes out to everybody who participated in the parade and the cruise-in:
ON SATURDAY 8 STREETERS CARS JOINED IN FOR THE ALGONQUIN FOUNDER'S DAY PARADE. THE EIGHT PARTICIPANTS INCLUDED CURRENT AND NEW CLUB MEMBERS. THE WEATHER WAS GREAT WHEN THE PARADE KICKED OFF AT 11:30 AM AND THE SPECTATORS WERE FANTASTIC.
WITH ONLY EIGHT VEHICLES OF WHICH THREE WERE NEW MEMBERS WHO JUST HAD
JOINED THIS PAST WEEK WE SHOWED ALL THE LOCAL SPECTATORS OUR BEAUTIFUL RIDES.
CANDY WAS GENEROUSLY DISTRIBUTED TO KIDS YOUNG AND OLD ALONG THE PARADE ROUTE.
EVERY THING WAS GOING JUST PERFECT UNTIL RIGHT AT THE END OF THE PARADE THE 31 FORD
HAD A RADIATOR HOSE SLIP OFF THE RADIATOR AND CAUSED A SPECTACULAR FOG CLOUD ON MAIN STREET.
THE LOOSE HOSE WAS QUICKLY REPAIRED AND A HOME OWNER SUPPLIED WATER TO REFILL THE RADIATOR.
HERE ARE THE STREETERS MEMBERS WHO PARTICIPATED AND HELPED THE CLUB WIN A FIRST PLACE TROPHY FOR BEST VEHICLES AGAIN THIS YEAR:
JON SCHWARTZ - 1936 ASTON MARTIN
DAN AND CAROLE OLENICK - 1962 GRAND PRIX
CHARLES PERROTT - 1971 NOVA
JOE PERROTT - CHEVY SSR
WAYNE BASTIAANS - 1957 CHEVY BEL AIR
OUR NEWEST MEMBERS:
JOHN SCHOPP - 1933 WILLYSHere is
HUGO GARCIA - 1959 CHEVY APACHE PU TRUCK
MIKE STRANGE AND WIFE - 1931 FORD HOT ROD.
THANKS TO ALL THAT HELPED US MAKE IT A GREAT EVENT FOR THE CLUB AND WIN AGAIN THIS YEAR.
WE COULDN'T HAVE DONE IT WITHOUT YOUR UNSELFISH HELP. THANKS ALL.
PS, THE SUNBURST CORVETTE CLUB FINISHED SECOND.
SUNDAYS ALGONQUIN CAR SHOW
THE FOLLOW UP TO THE PARADE ON SUNDAY WAS THE CAR SHOW ON MAIN STREET IN DOWNTOWN ALGONQUIN.
ONLY ONE BLOCK LONG AND ABOUT 100 CARS PACKED THE MAIN STREET. MOST OF THE PARADE CARS
FROM SATURDAY WERE THERE FOR THIS EVENT AND ALL HAD A GREAT TIME.
OUR CLUB NEEDS TO ENCOURAGE ALGONQUIN TO HAVE A ONCE A MONTH
CAR SHOW IN 2017 TO ADD THE THEIR SUMMER EVENT
WAYNE BASTIAANS / STREETERS PARADE CHAIRPERSON
---
Well... We're mostly thru the first 3rd of the season... Or done with the 1st Qtr (However you want to look at it.)
Can you believe we've come this far already? Or that so much time has past... Yes... Wow!
Still we have ALL of June, July, August, September and October left... So choose your time wisely....So they say.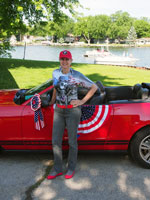 This past Memorial was another club event that worked out well for the club and especially for our fallen soldiers that we honored. I speak of the Johnsburg VFW Memorial Day Parade in Johnsburg.
The Streeters had their 2nd BIGGEST showing with 24 Club Vehicles that turned out for some simply GORGEOUS weather on Monday morning. Needless to say, we were the HIT of the parade once again, as our group has been the most popular parade group since we were asked to participate 4 years ago.
I have to thank ALL of our club members who turned out and brought their rides for the parade. We had nearly all 25 cars that committed, as we were missing two, and one surprise car show showed up... which worked out well. We clearly had MORE convertibles than they needed, but it was still a great thing to have them available.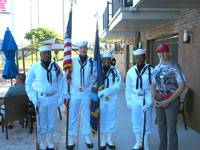 Special thanks has to go out to Streeters member Nolan McBride who opened early to have coffee and donuts on hand for all our club members. I also have to thank our "Official BLOCKER Car" whenever we've needed him and we definitely used his skills... Streeters member Rick Tomlinson.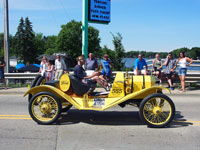 Additional Thanks also go out to Streeters members, Dan Olenick and Jim Salzburg who both had their trusty 2-Way Radios with them (Along with myself and Rick) who helped in organizing, grouping cars and tracking them in our caravan... both when in motion and when we parked. Dan led the group to our Lineup on Linden Street too.
A lot of work goes into these parades both weeks prior to the actual parade and the day of.... So THANK YOU to all of our club members who supported the club and our soldiers by joining in and more. For those who stayed for the ceremony and shortly thereafter the FREE Lunch, it was very good and a small token of thanks to the parade goer's and participants by the Johnsburg VFW.
Once again, the Streeters showed our strength, our unity, generosity and our comradery towards each other, our club and a great cause.
---
Prior to that event, the Streeters turned up in force on May 22nd at the 51st Annual Lil' Hershey Car Show, Swap and Corral.
We made our presence very very well-known with 22 Streeters Club Cars... More than any other group or club there... I can proudly boast about.
The Streeters did the usual, where all but 3 of our cars were parked out of our classes and parked in one LARGE area! The other three cars arrived later, so they parked in their classes. Throughout the day, 3D Sound's DJ was talking to the crowd to remind them that several cars were parked out of class and with their buddies with a few clubs.
(We were the only club that I know was there anyway). But the DJ kept reminding people to make sure they walk around and look at ALL the cars to insure they vote for the cars NOT in their class... And that was simply because of us. We had 6 canopies set up and LOT of people enjoying the show that day. The weather for that show could NOT be any better...
At the end of the show, the show organizers made an announcement that they were going to change the awards for next year to the TOP 50 cars, rather than Class Awards because of all the cars not in their respective classes. And YES... That was us!
THAT is how Relevant our club is... AS WE AS A GROUP, CAN CHANGE A SHOW OR HOW IT WILL BE IN THE FUTURE. KEEP IN MIND, THIS SHOW HAS BEEN GOING ON FOR 51 YEARS TOO!
In the end, our club walked away with about 7 awards, which was pretty damn good! Congrats to ALL our winners, and THANKS to ALL OUR CLUB MEMBERS THAT CAME TO THAT SHOW, AND MADE IT ANOTHER SUCCESS FOR OUR CLUB!