Welcome to the Northern Illinois Streeter's Car Club
Club News
In case you missed our first 2018 breakfast at Cafe 31 North.
Meeting Agenda January 2018
Freddy - Introductions:
• Welcome everyone and thank them for coming out to our January Brunch
• We're back here at the Cafe 31 North thanks to Carole Olenick making the arrangements.
Carole Olenick - Future Restaurants for Club Breakfast or Luncheon
• February - Golden Corral In Algonquin
• March - Dockers North In Antioch
• April - Rusty Nail
Tim - NEW or Recent Club members
• Introduce any NEW Streeters members, as them to stand up, introduce themselves to group.
• Check out our Club Website, kept current by our Club Webmaster, Wayne Seely
Wayne - Is anyone Interested In Advertising thru our club website for their business for a small monthly to yearly fee?
Freddy - Facebook Page I will be bringing back our Face book Page
Please Friend us! Post Pics, Let's hang out online!
Joe- Emails
• We're building up a NEW platform for our Email system which failed thru Gmail. We met last night with
to set it up. Emails will come over without MY name on them, as we need members to realize that Tim, Freddy Carole & Jens' will be helming the Daily duties, besides myself.
Freddy - GET IN GEAR I
• Check out our two "Club Store" vendors for Streeters apparel and merchandise. Artistic Embroidery Creations in McHenry, IL.
• Name tags... You can get a cool name tag Just like this! You can go to the club website to get the info. They cost $7.00 for Pin or $8.00 for Magnetic.
Tim - Car Show / Cruise Night Season Schedule - we'll be working on that in March.
Events:
Tim - Wolves Game on February 3, 2018 $17.00 per person, checks to Tim Wong. We have 36 People so far!
Joe / Wayne / Tim - K1 Speed Carting © Buffalo Grove location (April 7th) $65.00/driver.
We plan to combine our outing with the CAR0C club.
Joe - Adopt - A - Highway Cleanup... Resumes In April. 3rd Saturday - April 21, 2018, June 16, 2018, August 18, 2018, October 20, 2018.
Doug Everhart will be helming this again for our 7th year.
Joe - Parades: Johnsburg Memorial Day Parade / Algonquin Founders Day Parade
Freddy - Drive-In Theater Dates planned for 6/16, 7/21, 8/18 and 9/16
Tim, Freddy and Joe - ANY other Business?
• Thank everyone for coming, and remind everyone to look out for Club Emails the upcoming club schedule in a couple weeks
---
The Streeters team wants to get the word out for the Chicago Wolves club outing. We want to get the news out that we are getting the gang together again for another fun outing at the Chicago Wolves game!! As announced at our club brunch last month, we are set for another fun time for the Northern Illinois Streeters family!! Our annual group outing at the Chicago Wolves hockey has become a tradition!!! This has been a fun event for over 10 years now and it is always a good time with an exciting sport.
Read more
STREETERS TV NEWS: "TUNE IN" with Streeters "Gearhead TV" News: Garage Squad and
LOTS MORE
!
Yes that's right, one of our own, and local SuperCar Builder, Jeff Schwartz of Schwartz Performance is getting more TV time!
This time on Spike TV's POWER//NATION from 8am to 10am. Jeff will be featured between commercial breaks with PowerNation host Katie.
Here is the promo excerpt for Saturday's PowerNation...
The Raybestos Mustang!- 2016 PowerNation Week #31
This week Katie features the 1969 Raybestos Mustang, built by Jeff Schwartz of Schwartz Performance. As you know, we've used a few of his custom built chassis and this pony car is no different. It has a Schwartz Performance G-Machine Chassis which is plenty strong to handle the 480 horsepower the Coyote engine is putting out! It has a Silver Sport 6 speed tranny and to bring all that power to a stop, Raybestos brakes. The R300 rotors are the ultimate upgrade along with the Element3 EHT brake pads which offer the attributes of both ceramic and semi-mettalic materials in a single hybrid compound. Perfect for a car that can hit the Autocross circuit as well as the street. Also this week Katie interviews NHRA legend and 16 time Funny Car champion John Force. Lot's for you this week on PowerNation. For more go to www.RaybestosBrakes.com
http://www.powernationtv.com/post/the-raybestos-mustang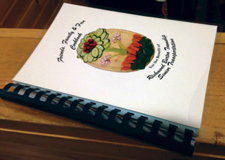 Last year, long-time Streeters member Carole Olenick put together a truly AWESOME cookbook containing over 440 recipes and tips & tricks!
It's the Friends, Family and Fun Cookbook, a 2 INCH THICK book jam packed with great recipes from family, friend and some generations old and simply delicious and fun to make!
This book has everything from appetizers, to snacks, "Fun Foods", entrees and of course desserts of all kinds! From simple to decadent and allllll good! There is something truly for everyone, as it not only makes a great read, but also a TERRIFIC GIFT!
With Mother's day only a couple months away, a gift as simple and from the heart as this, that contains so much enjoyment for the cook, the baker or the taster... You simply cannot go wrong!
It's a cook book, that you will always go back to and will always be close to you in the kitchen! Yes, it's THAT GOOD!
And perhaps the absolute best part? EVERY DIME, EVERY PENNY from the sale of each book... ALL goes to a great cause, the Richmond Township Senior Transportation. The money raised goes to fund the service and the vehicles/maintenance that give free rides to seniors that need a ride to go shopping, doctor visits and other locations necessary throughout McHenry County.
ALL THIS FOR ONLY $15.00!
Here's the info to get your cook book!:
Call 815-675-6709, Carole Olenick, for information about the Friends, Family & Fun Cookbook.
Every penny raised is going to the
Richmond Township Senior Transportation
to help get seniors to doctors, dialysis and other needs for those that can't do it on their own.
There are over 440 recipes included and good tips for lots of things.
AND if you pay by check (Make it out to: R.T.S.T.) you can receive a receipt to use for a donation on your Taxes.
Carole Olenick
5023 Hampshire La
Johnsburg, Il 60051
815-675-6709
Get yours today and do something good for yourself, perhaps your family, a friend... A perfect Gift! And do something that makes a difference!
---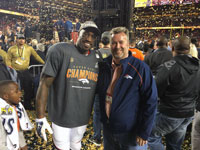 Just caught this pic posted on Facebook, but it's our very own Dan Field at the Superbowl with Game MVP Von Miller of the Champion Denver Broncos at Sunday evening's Super Bowl after the game.
I just thought I'd share the pic from Facebook. Way to go Dan!
---
Thanks to one of our "Eagle-Eyed" long-time club members, Rick Tomlinson... who spotted on the "Cars Time Forgot" car show website that the episode of "My Classic Car" (Airing on Velocity and MAVTV networks) that was filmed at last year's "Cars Time Forgot" car show in Delavan, WI. last year will air on Saturday, April 23rd. For specific times, check your local listings.
We had about 35 Streeters Rides there, most of them parked together that day while TV Show host, Dennis Gage walked around and rode around (On a Golf Cart) with camera crew in tow, talking to show patrons, shaking hands, doing interviews and basically meeting and greeting his fans of "My Classic Classic Car". Many of our club members got to meet Dennis, always a very approachable, cordial guy.
So stay tuned, mark your TV Calendars, as the episode featuring that car show will air on April 23rd.
A couple websites to check out!
Link to "Cars Time Forgot" car show
Link to Photobucket of pics from show
(Streeters member Bob Weidman is featured here)
---
Secretary of State will be featuring a red 1970 Dodge Challenger convertible on their special event license plates and they are now being offered to the public!
Read More
---
Long-time Streeters member, Bill Foley had his gorgeous '66 Galaxie 500 featured on "My Car Story" with Lou Costabile recently. We've had many many Streeters Cars get their due of publicity, whether by press article, Television, Automotive event or whatever, and now we can chalk up one more Streeters car getting it's rightful place on the Streeters mantel.
My Car Story with Lou Costabile 1966 Ford Galaxie 500 7 Litre Hardtop
---
Join the "Orange Brigade" and get your "Streeters Swag" today!
If you don't have your "Streeters" Gear and are looking to get your Summer Apparel set for the Car Show Cruising Season, welllllllll here is the info you've been looking for!
Elite Embroidery in Antioch, IL. is our "Official" Club Store! Don and Diane Gall have been taking care of us for several years now, and they can get you what you need, and more specifically... What you WANT!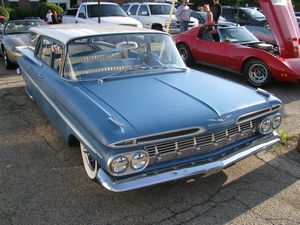 ADDRESS! (Just a few doors down from their old location)
Elite Embroidery
919 Main Street
Antioch, IL.
Don & Diane Gall - (847) 395-5584
---
Wednesday evenings can only mean one thing - a group of local car people meet to eat, relax, chat and have fun at the Pizza House in Johnsburg.
READ MORE
---
One of our club members, Bill Crittenden also took some great shots of nearly EVERY showcar at the Green St show ...
View photos
Joe
"Northern Illinois Streeters Car Club"